September 8, 2011 12:15 PM
Paul Thurrott takes a look at SBS 2011 Essentials.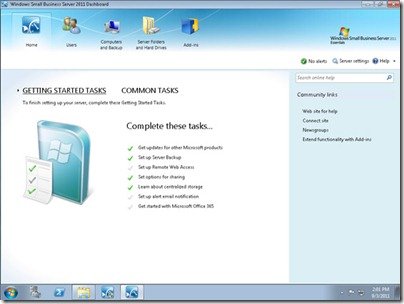 Paul takes us through the features of Small Business Server 2011 Essentials in his article, including:
Automatic, centralized PC backup
Automatic server backup
Network health monitoring
Content storage and sharing
Remote access
Full Active Directory functionality
Extensibility through add-ins
Windows Small Business Server 2011 Premium Add-on
Availability
"Basically, SBSE is a stripped down version of Windows Server, or a small business version of Windows Home Server 2011. And at a high level..."
You can read Paul's article here.
Paul Thurrott's Take on SBS 2011 Essentials is a post from: MS Windows Home Server - Your Personal Guide to MicroSoft Windows Home Server!
Microsoft MVP Philip Churchill's MS Windows Home Server Blog is one of the leading sources of breaking news and information, insightful opinion, and great tutorials regarding Windows Home Server. If you're an HP MediaSmart Server owner, this is a can't miss!