The pre-release version of My Movies Home and Essentials Server Solution has been updated to version 5.00 Pre Release 7.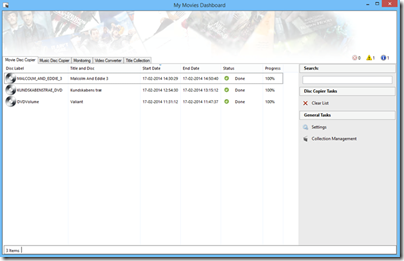 Here is the change log for the last two versions:
5.00 Pre Release 7:
IMPORTANT: If you have posted about problems prior to this Pre Release, and still have the problem, please reply to your post to notify about it.
Fix: There was an exception when applying settings after having set Dune configurations.
Fix: The system did not log in with stored credentials when storing title media information.
Fix: Save As in the cover right click menu in Collection Management gave an error.
Fix: The video converter detected the main movie for MP4 files, but did not pass it to handbrake, letting handbrake decide, meaning that the functions that should force a better detection was not used.
Fix: Another character in the auto-generated passwords were found that could give problems when restoring databases, creating new databases or similar.